Child Sex Offence – Introduction
 Child sex offences in New South Wales, courts can impose severe penalties for sexual offences involving children. These penalties range from the most severe being full time custodial sentences to the less severe such as good behaviour bonds. If you have been accused or charged with a sexual offence against a child, you should contact a Criminal Lawyers at George Sten & Co as soon as you can. Our lawyers can provide you with professional legal advice that could assist you in avoiding prison time.
Just this month, a prominent case was determined in Western Australia. A father was found guilty of 63 offences against his daughter and sentenced to 22 and a half years imprisonment. Details of the case and applicable legislation are found below.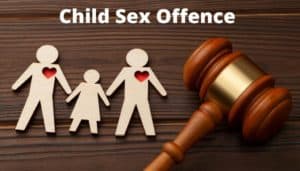 The Case
2.1 Details of the case
In June 2016, a Perth father was sentenced to at least 22 years in jail for coordinating a pedophile ring. As part of the ring, his own daughter was repeatedly abused for years. The father's name has not been released in order to protect his daughter's identity.
The 42-year-old single father utilized classified websites such as Craigslist to offer his daughter to strangers for sex under the guise of a father looking for modeling opportunities for his daughter. His daughter was living with him after a marriage breakdown. The abuse occurred between the years of 2013-2015. At the time, his daughter was between 11 and 13 years old.
The offender repeatedly raped his own daughter and watched her have intercourse with the strangers he found online. She was drugged and filmed throughout the abuse. Judge Eaton stated that the crimes involved, 'a high degree of depravity and exploitation'.
The father was initially accused of 230 offences but only sentenced on 61 charges. Many of the charges were combined to lessen the eventual sentence that was handed down. The charges included sexual penetration of a child, indecent dealing and recording of a child, procuring another to abuse a child, drugging his own daughter and compel her to provide a sexual service.
The Western Australia District Court sentenced the father to 22 and half years in prison, with a non-parole period ending in December 2036. This is one of the longest sentences handed down by the Court. Although, the father did write a letter to the judge expressing his remorse, he made other comments that over shadowed this including something along the lines of, 'it was fun while it lasted.'
Eight other men, known as the Evil 8 were charged as part of the pedophile ring. These men include a former Christian pastor, Dawid Volmer, Benjamin Simon Clarke, Mark Wesley Liggins and Nicholas Adam Beer.
The proceedings of this case were published in a Perth Now news article titled, 'Evil 8: Father who organised pedophile ring, sexually abused daughter jailed for 22 years.' on June 23 2016.
Legislation
The Legislation under which the father was charged was the Criminal Code 1913 (WA). Section 320 of the act prohibited sexual offences against children under the age of 13. The father would have been charged under several offences in this section including,
the sexual penetration of a child. This holds a maximum sentence of 20 years.
the procurements, inciting or encouraging of a child to engage in sexual behaviour. This holds a maximum sentence of 20 years.
the indecent dealing of a child. This holds a maximum sentence of 10 years.
the procurements, inciting or encouraging of a child to engage in an indecent act. This holds a maximum sentence of 10 years.
the indecent recording of a child. This holds a maximum sentence of 10 years.
As the child was aged 13 at the time of some of the offences, the father would have also be charged under section 231 of the act which prohibits the same acts as section 320, but for children aged between 13 and 16 years of age.
There are reciprocal laws in each jurisdiction in Australia. In New South Wales, these offences are found in the Crimes Act 1900 (NSW). This act makes it an offence to have sexual intercourse with a child aged between 10 and 14 years old. This is punishable by up to 16 years imprisonment. If it is an aggravated offence, this punishment increases to, up to 20 years. An aggravated offence is characterised by circumstances of aggravation.
Circumstances of aggravation includes situations where:
the offender is armed, or
is in the company of other people, or
the alleged victim is under the authority of the alleged offender, or
uses corporal violence against any person, or
inflicts actual bodily harm on the person, or
deprives the person of liberty, or
know that there is a person in the place where the offence is alleged to have been committed.
Therefore, if the crime had occurred in New South Wales, it would have been considered to be an aggravated offence and would be punishable by the maximum of 20 years.
Section 66EA of the New South Wales legislation also outlines an offence for persistent sexual abuse of a child. In this case, if a child is abused on 3 separate occasions on 3 separate days during any time period, then the offender is guilty of the offence. This offence carries a maximum of 25 years imprisonment.
Section 66EB outlines another offence which would have been applicable in this case. The offence is known as Procuring or grooming a child under 16 for unlawful sexual activity. This type of offence carries a maximum term of imprisonment of 15 years.
Conclusion
If you find yourself in a situation where have been accused of a child sex offence, then you should contact George Sten & Co Criminal Lawyers. If you have been accused of a sex offence and require any legal advice, assistance or representation, contact George Sten & Co Criminal Lawyers. Our Criminal Lawyers have over 50 years of experience in defending Sexual Assault and can help you to achieve the best outcome in your situation. Call our Sydney Criminal Lawyers 02 9261 8640