Bail Application Lawyers in Sydney available 24 hours.
Applying for bail is a situation where you don't want to risk it all, especially if applying for Supreme Court bail. The loss of liberty for any person is devastating. Obtaining fast, accurate advice, as well as forceful and confident representation, is essential. George Sten & Co lawyers are committed to having our clients released in the quickest possible time. Call us on 9261 8640. Arrests frequently occur outside business hours or the weekends. If you require an urgent weekend bail application contact us on 0412 423 568
Bail is part of the criminal trial process. The presumption of innocence and the right to liberty are two important principles of our common law (judge-made law). They help ensure that our criminal justice system is fair and that everyone is equal before the law. According to these two principles, when an accused person is charged with an offence, they have a right to apply to remain in the community to await their trial. This is called bail. The law for bail in NSW is set out in the Bail Act 2013 (the Act). Under the Act, a bail authority must decide whether the accused person should be held in gaol (called on remand) before their hearing or whether they should be released, with or without conditions, into the community. When the accused person applies for bail they are called the bail applicant.
Bail Conditions NSW
When deciding on bail conditions the court must take into account:
• the persons background and community links
• the strength of the prosecution's case
• nature and seriousness of the offence
• any special needs of the accused eg: youth, health, indigenous status
• a person can be required to give the court an amount of money called a security and lose it if they break bail conditions or fail to turn up to court
• they can be limited in what they are allowed to do or where they are allowed to live
• they can be required to report to police a certain number of times a week
• undergo regular testing by police for the consumption of drugs or alcohol
Law Reform The Bail Act 2013 was amended in 2015 and introduced a 'show cause' test for a number of serious offences. Under the show cause test an accused person is required to provide reasons to the court as to why they should not be detained without bail. Offences to which this applies include murder, serious drug and sexual offences and serious offences committed whilst the accused was already on bail. Additional changes were made to the Act in 2017 and 2018 to include special provisions for terrorism and weapons offences.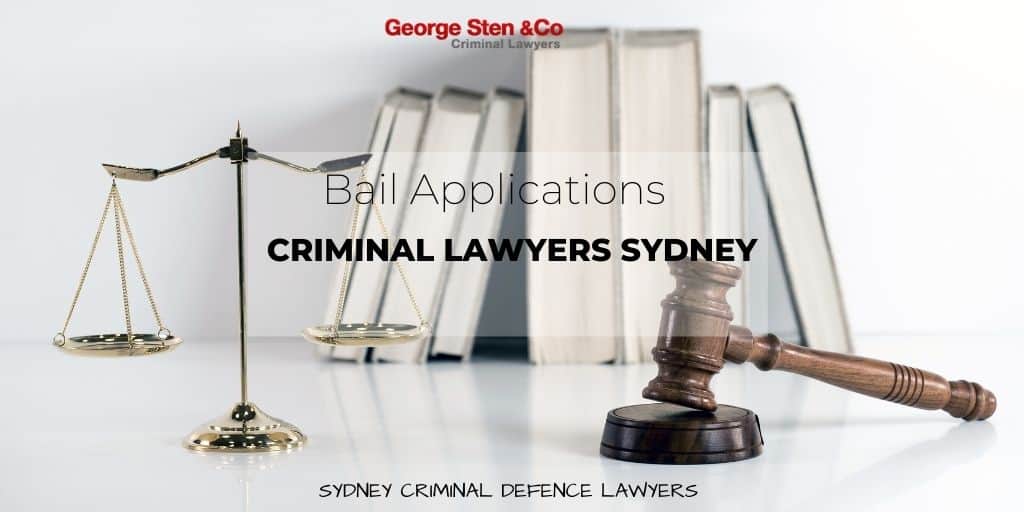 George Sten & Co lawyers are based in Sydney's CBD and have over 50 years experience in criminal law. We have extensive court experience and exceptional trial skills. This provides valuable insight in dealing effectively with police and prosecutors to obtain the best results for every client. Read more on "What happens in a Bail Application and Applying for Bail" We help you in every step of the bail application process and apply for bail from:
Bail Applications Sydney NSW
Only one application is available for Supreme Court bail, and you cannot make another application for the same charges unless your circumstances change. Our expert criminal lawyers are fully prepared on every case to make a successful application. George Sten & Co are committed that their expert legal advice will explain and produce the best results in:
bail hearings
setting a bail amount
conditions and restrictions when granted bail
what the court considers in granting bail
bail grant appeals from prosecution
Don't risk an unsuccessful bail application, talk to George Sten & Co's accredited criminal law specialists on 9261 8640 or 0412 423 569.